The Remote Sensing Portal Geospatial Media Kit
The Remote Sensing Portal Media Kit
Get a global existence on a platform that is daily visited by professionals from the community of Geospatatial, Geomatics, Surveying, GIS, Photogrammetry, and Satellite Image Processing fields.
Increase your Brand Awareness & business leads.
The following prices applies on anyone of our global educational platforms The Remote Sensing Portal and also the other website for junior learners titled K12 Space Science and Satellites Academy.
Our Global Media Coverage: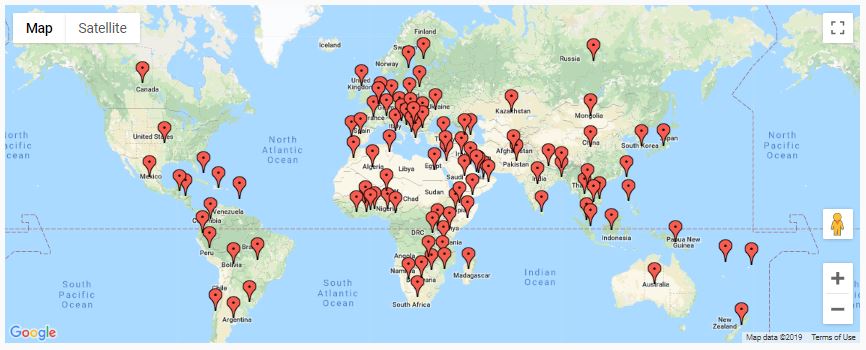 Benefits & Pricing of advertising on the Remote Sensing Portal:
Advertise your products here on the Remote Sensing Portal in front of around 30,000 professionals/year from the Geospatial & Geomantic communities from all over the world.
Your ads/brand awareness will appear and remain for 6 consecutive months or an entire year on our Global Education and Certification System, that is specialized in Remote Sensing & satellite image processing.
Get a global outreach since we have around 40K visits/year, 30K unique visitors/year, 1.5 Million pages visited/year.
To increase your business leads opportunities, our portal is available in two languages (English & Arabic), and our courses list page is available in 27 languages.
We have 1000+ students from 100+ countries registered in our Geospatial Courses, including several hundreds of Geospatial education grants.
Our students belong to the world's top organizations and universities and cover several professions, such as: [Geomantic, GIS, Remote Sensing, Surveying, Geoinformatics, Geology, Urban Planning, Petrology, Mining, Geography, Agriculture and others].
Finally, We invite you to visit the homepage of the Remote Sensing Portal at: https://remote-sensing-portal.com and check our advertising prices shown in the table below, then contact us at:

info@remote-sensing-portal.com

Become a Platinum Sponsor for $5000 / year or $3000 / 6 months.
Become a Gloden Sponsor for $4000 / year or $2500 / 6 months.
Become a Silver Sponsor for $3000 / year or $2000 / 6 months.

Or use the following Advertising Pricing & Plans:
Advertising Pricing & Plans

Our 2020 offer: Advertise in the English language pages and pay before 15 December 2019, then we will place your ads for free in the Arabic Language pages to reach Gulf countries
Pricing Category
Lite
Plus
Professional
Enterprise
Ultra
Cost per

6

Months
$700
$900
$1100
$1300
$1500
Cost per

12

Months
$1000
$1400
$1800
$2200
$2600
Ads Types:
Two Menu Items under two suitable categories

+

+

+

+

+

Small Logo in Partners section on the Home page

+

+

+

+

Ads on the following 5 pages: [Certificates – Pricing- our 3 Certificates pages] (available in

2

languages)]

+

+

+

Ads on our Courses List page (available in

27

languages) + ads on all our 16 courses pages (in 2 languages)

+

+

Ads on our Home Page (available in 2 languages)

+
A sample statistics of our visitors from all over the world: